Tom's Featured Tip: Amateur Driver Distance Stats
For simplicity, all advice on actual swings or drills is provided from a right handed perspective.
I received a question from a female golfer regarding how far she hits her driver in relation to her other clubs. I sent her a few questions so that I can give a comprehensive answer next issue. In the meantime, I discovered some interesting stats on how far amateur players hit their driver.
We all watch the pro's regularly smashing it 300 yards and beyond down the fairway, and there is a correlation between distance off the tee and the player standings on the money list. But how far should an amateur reasonably expect to hit their driver?
Golf Game Live, a wearable shot tracking system, provided data from amateur golfers across the world from rounds played between April and September 2016.
The test data didn't say whether the results were from male or female players, but from my personal experience they seem to represent male amateur players. No offense to female amateur players – I hope you are hitting it that far, I'm just trying to keep it real.
These results will probably make you feel pretty good about yourself, if they don't, come see me for a lesson: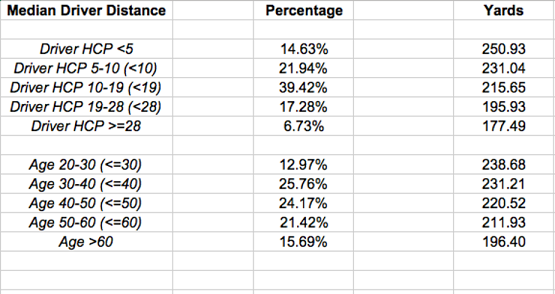 The percentage refers to what percentage of that group hits the ball that distance.
Other interesting stats from the study were that:
the median driving distance was 219.55 yards
the median 3-wood distance was 186.89 yards
the median 7-iron distance was 133.48 yards
the median pitching wedge distance was 73.97 yards
and that golfers found the fairway 46.46 percent of the time
We all realize that the number that counts the most is the one we put on the scorecard, but I hope that the distance numbers above may allow your brain to settle in to a comfortable swing mode the next time you tee it up.
Comments: ttucker@rochester.rr.com
Love your practice, own your swing, own your health,
Tom
Tom Tucker's Bio
I conduct lessons at The Plum Creek Driving Range & Practice Facility
there's a link for Plum Creek info here: http://www.tomtuckergolf.com/
Lessons are available for all ages and skill levels, please contact
me – Tom Tucker – at (716) 474 3005 or email me at ttucker@rochester.rr.com
for more information.
Outdoor Lessons Details and Rates:
http://www.tomtuckergolf.com/lessonrates.html
Indoor Lessons Details and Rates:
http://www.tomtuckergolf.com/indoor.html
Driver Fitting Rates:
http://www.tomtuckergolf.com/indoor.html
Testimonials:
http://www.tomtuckergolf.com/testimonials.html